Introduction:
Crossdressing is an art form that allows individuals to express their true selves, explore their creativity, and break free from societal norms. One of the most exciting aspects of crossdressing is striking the perfect pose. Whether you're an experienced crossdresser or just starting, mastering the art of posing can make a significant difference in your confidence and presentation. In this blog post, we'll share five valuable tips to help you strike a pose like a pro.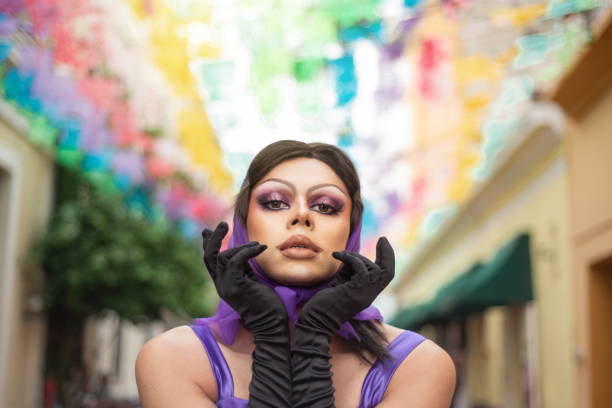 Know Your Body:
The first step in achieving perfect crossdresser posing is to understand your body's unique features and proportions. Every body is different, and what works for one person may not work for another. Spend time in front of a mirror and analyze your body shape, height, and any specific areas you'd like to emphasize or downplay. Learning to love and accept your body as it is will boost your confidence and help you pose more naturally.
Practice Makes Perfect:
Like any skill, posing requires practice. Spend time experimenting with various poses and facial expressions in front of a mirror or camera. Try out different angles, hand placements, and body postures to find what feels most comfortable and authentic to you. Take photos or record videos to review and refine your poses over time. As you practice, you'll become more aware of your best angles and the poses that make you feel most fabulous.
Study the Experts:
Learning from the experts is a great way to enhance your posing skills. Watch movies, TV shows, and photoshoots featuring crossdressers, drag queens, or models who embody the style and confidence you aspire to achieve. Pay attention to their body language, facial expressions, and the way they carry themselves. You can also follow fashion blogs, social media accounts, or attend local drag shows to gain inspiration and learn from the pros.
Wardrobe Selection:
Your choice of clothing plays a crucial role in achieving the perfect pose. Experiment with different outfits, styles, and colors to discover what flatters your body and makes you feel most comfortable. Consider investing in shapewear or undergarments that provide a smooth silhouette, helping you achieve a more feminine or masculine appearance, depending on your desired look. Remember, confidence in your attire will shine through in your poses.
Express Confidence and Authenticity:
Ultimately, the key to perfect crossdresser posing is expressing confidence and authenticity. Embrace your unique style and identity, and let your inner self shine through in your poses. Confidence is attractive, and it will make your poses look more natural and captivating. Avoid imitating others blindly; instead, focus on being the best version of yourself.
Conclusion:
Perfecting your crossdresser posing skills is a rewarding journey that allows you to express your true self and boost your self-confidence. Remember that there is no one-size-fits-all approach, and it's essential to celebrate your uniqueness. Practice, study the experts, and embrace your authenticity to strike a pose like a pro. As you continue to refine your posing techniques, you'll discover a newfound sense of empowerment and self-expression through crossdressing.