Introduction: Halloween is the one night of the year when everyone can embrace their inner creativity and transform into someone or something entirely different. For drag queens, this is an opportunity to take their glamorous looks to a whole new level and dazzle the world with their fierce Halloween costume. Whether you're a seasoned queen or just starting your journey, this guide will help you step up your Halloween game and create a show-stopping ensemble that will leave everyone spellbound.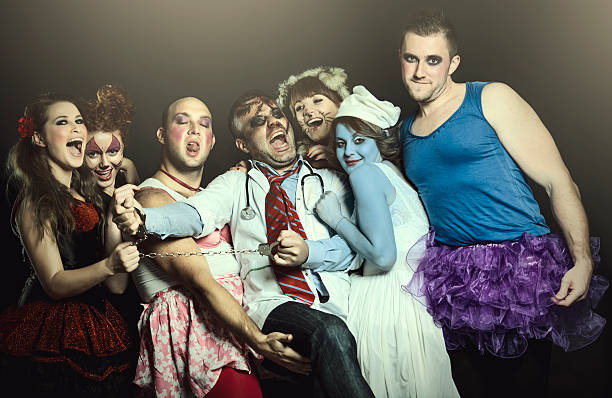 Costume Selection: The cornerstone of any drag queen's Halloween look is the costume. When choosing your outfit, consider the following:


a. Fabrics: Opt for materials that are comfortable and allow you to move gracefully. Sequins, feathers, and faux fur can add a touch of glamour.

b. Silhouette: Experiment with silhouettes that highlight your best features. Whether it's a sleek, form-fitting gown or a voluminous ballgown, make sure it complements your body shape.

c. Accessories: Don't forget the accessories! Statement jewelry, wigs, and props can elevate your costume and make it unforgettable.

Makeup Magic: Drag queens are known for their impeccable makeup skills. For Halloween, take your makeup game to the next level:


a. Dramatic Eyes: Embrace bold eyeshadows, dramatic eyeliner, and fluttery false lashes. Experiment with vibrant colors or special effects makeup to match your chosen theme.

b. Contour and Highlight: Sculpt your face with contour and highlight to create those signature cheekbones and a flawless complexion.

c. Lip Artistry: Choose a lip color that complements your costume and personality. Don't be afraid to go bold with reds, purples, or even metallic shades.

d. Setting Spray: A good setting spray is your best friend, ensuring your makeup stays flawless throughout the night.

Hair Extravaganza: Your hair is another canvas for your creativity. Consider these tips:


a. Wigs: Invest in high-quality wigs that match your theme. Lace-front wigs give a natural hairline, and you can style them as desired.

b. Styling: Experiment with different hairstyles, from glamorous waves to towering updos. Your hair should be an extension of your character.

Confidence and Charisma: Lastly, remember that drag is all about confidence and charisma. Own your Halloween character and bring it to life with your personality and stage presence. Strut your stuff, work the room, and dazzle everyone with your fierceness.
Conclusion: Halloween is the perfect occasion for drag queens to unleash their creativity and transform into the embodiment of glamour and fantasy. By selecting a theme, carefully choosing your costume, mastering makeup techniques, styling your hair, and exuding confidence, you can create a Halloween look that will leave a lasting impression on everyone you encounter. So, sashay your way into the night and make it a Halloween to remember!