Introduction: Cross-dressing is an expression of self-identity and creativity, allowing individuals to explore and embrace different aspects of their personalities. One accessory that has gained popularity among cross-dressers is pantyhose. Beyond their aesthetic appeal, pantyhose offer a range of benefits that enhance the cross-dressing experience. In this article, we'll delve into five key advantages of wearing pantyhose for cross-dressers.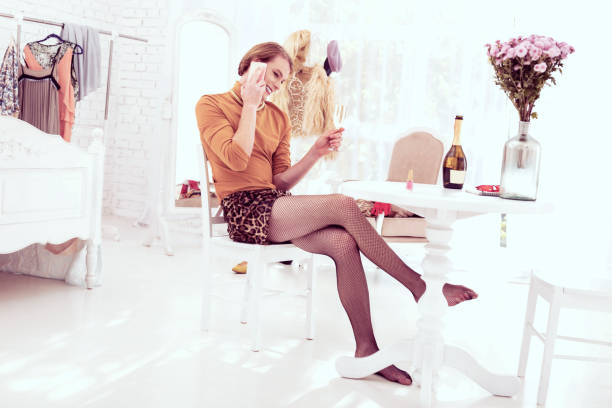 Enhanced Confidence and Femininity: Pantyhose have a unique ability to instantly enhance the overall look of an outfit. For cross-dressers, this means achieving a smoother, more polished appearance that contributes to an increased sense of confidence and femininity. The sheer texture and subtle shimmer of pantyhose can help create a more authentic and convincing feminine look, helping individuals feel more comfortable and empowered in their chosen style.

Body Shaping and Support: Many pantyhose are designed with built-in shaping and support features, such as control tops and compression materials. These elements can help create a more flattering silhouette by smoothing out curves and providing a gentle lift to the buttocks and thighs. Cross-dressers may find these features particularly beneficial for achieving the desired feminine body proportions.

Concealing Imperfections: Pantyhose offer excellent coverage that helps conceal imperfections, such as leg hair, scars, or blemishes. For cross-dressers who wish to achieve a flawless and feminine appearance, pantyhose serve as a practical solution to these common concerns. The opaque varieties can even provide additional coverage for those who desire it。

Improved Outfit Coordination: Selecting the right pair of pantyhose can significantly enhance the overall outfit coordination. Whether choosing a sheer nude shade for a natural look or opting for a bold color or pattern to make a statement, pantyhose can complement and elevate the entire ensemble. This allows cross-dressers to experiment with different styles and express their unique personalities.

Physical Comfort and Expression: Pantyhose are not only about aesthetics—they can also provide a comfortable and sensory experience. The soft and lightweight material can feel pleasant against the skin, and the gentle compression can offer a sense of support. Moreover, wearing pantyhose can be a form of self-expression, allowing cross-dressers to explore their identity and creativity through various textures, colors, and styles.
Conclusion: Pantyhose have transcended their traditional role as a wardrobe staple and have become a valuable tool for cross-dressers seeking to enhance their appearance and self-confidence. Beyond their visual appeal, pantyhose offer a range of benefits, including enhanced femininity, body shaping, imperfection concealment, outfit coordination, and physical comfort. By incorporating pantyhose into their ensembles, cross-dressers can achieve a more authentic and fulfilling experience that aligns with their self-expression and identity.