❗Warm Tips: Because the doll is made entirely of silicone, there will be a silicone injection hole in the head of the doll, this is an inevitable production process in the manufacture of the doll, this is not part of the quality problems, if you mind the head of the doll has this mark, please do not buy it
👶BABY SIZE: CYOMI New Arrival soft silicone reborn baby dolls, the design comes from the 1:1 body-shape of the newborn baby. The reborn doll full length 18 in /47 cm (weight 2.8kg), height and weight is similar to the newborn, it will feel very real in your arms, and can wear newborn clothes, bring the feeling of a real baby.
✔HIGH QUALITY SILICONE: Our doll is made of food grade, environmentally friendly solid silicone, is a solid solid silicone doll, unlike the vinyl doll, which is hollow, soft, non-toxic and tasteless, and a "realistic baby" feeling. Soft finger with the spring & silicone filling. It's can be any shape you want.
👀EYES: Our dolls have charming big eyes, with long eyelashes and realistic eyebrows, bright, clear and bright like the eyes of a real baby, the eyes can not be open and closed.
🎁What is the best for: Birthday gifts, Christmas gifts, companion dolls for mothers and grandparents, collectors, role play, nursing training, family activities, parenting activities, photo motifs.
🗨About the Silicone Doll

❓What are the differences about this doll compared to vinyl doll?
Our doll is full body silicone reborn baby. The doll's skin and body are as soft as a real baby, while the vinyl doll is hollow in the body. The skin and body are not as soft and real as our doll.

🛀Can this doll take a bath?
Our baby is made of silicone, like a real baby, you can take a bath, dry it gently with a soft towel, and then wipe the baby body powder, which will make the baby feel more relaxed.

👕What size does the doll wear?
Dolls wear 0-3 months baby clothes size.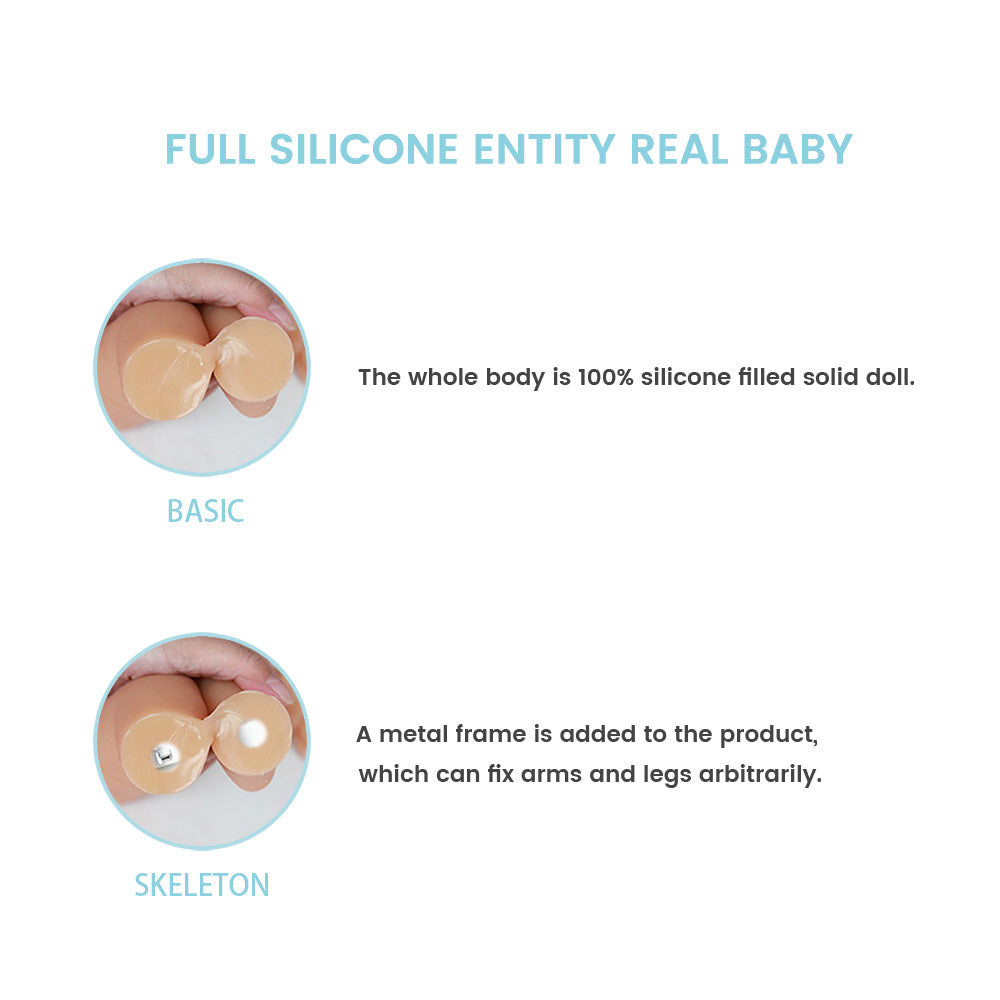 ❗ Care and use tips
❗ 
Stay away from sharp objects and pets, otherwise the doll will be hurt.
❗ 
Do not pull the limbs of the doll excessively, because the skin of the doll is very soft.
❗ 
Do not wash the doll with high temperature water. The doll will be damaged.
❗ 
Please protect the doll. The damage can not be repaired.
Size:

Our silicones are very elastic and easy to stretch. They can be stretched to 200% without damage. Each size is suitable for different people. As long as it is not pulled hard, it is not easily damaged. Be sure to read the size chart to choose the right size. If you are not sure which size will fit you best, please leave us a message (Email:cyomicrossdress@gmail.com) about your measurement(weight, height, neck circumference, chest circumference, size of the cup you want to reach) We will recommend a suitable size for you after receiving information from you.



 

Color:

Caucasian - Color 1, Natural - Color 2, Tan - Color 3

The bigger the number, the darker the color.

CYOMI silicone breast the longer you use, the better close to your real skin color.

If you want the deeper color, please contact us.




 

Maintain :

·Clean them in lukewarm water with mild soap, air-dry or with towel gently.

·Keep away from hot temperature, sunshine, sharp pointy things, washing machine, chemical material.

·To avoid discoloration of other clothes, do not clean the products with other clothes.

 

Note!

·This product is easy dyeing. Therefore, do not wear faded clothes or jewelry. Artificial dyeing is not refundable.

·Every product is hand made with many procedures by our artists, so it is inevitable to have some tiny difference in size. And we need 3-5 days to prepare the product after your payment. 

·Remember to read the instructions carefully before using!

 

Shipping:

For shipping information, please click on here.

YOUR PERSONAL INFORMATION WILL BE KEPT COMPLETELY CONFIDENTIAL

 

Returns:

For information on return and exchange, please click on here.